Melbourne Tourism Industry Leadership Program
Applications for the 2016 Melbourne Tourism Industry Leadership Program are now closed. 
The Melbourne Tourism Industry Leadership Program (MTILP) is an award-winning industry development program that provides specialised leadership training for industry employees with demonstrated leadership potential.
The primary aim of MTILP is to raise the professional standards of the Victorian visitor industry. MTILP combines facilitated leadership workshops with candid presentations from leaders in tourism, government, business, environmental stewardship and motivational fields. The program plays a vital role in preparing the future generation of leaders for the next phase in the development of the Melbourne visitor industry. This is achieved through engagement with senior managers and CEOs, familiarisation tours in local and regional locations, and interaction with different sectors of industry.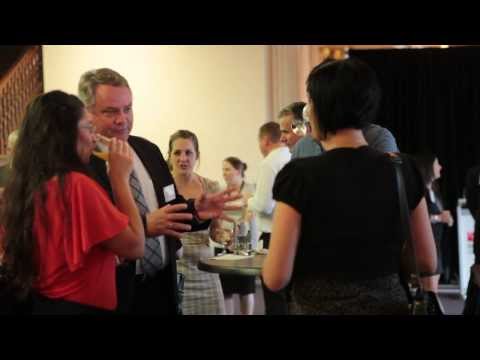 Click the below links to hear from past participants as part of our Living Your Values blog series:
Karen Oliver, 2012 MTILP Graduate
Despina Karatzias, 2012 MTILP Graduate
Carla Phillips, 2011 MTILP Graduate
Misti Dullard, 2009 MTILP Graduate
Matt Kennedy, 2013 MTILP Graduate
Anna Heaton, 2012 MTILP Graduate
Edi De Pellegrin, 2011 MTILP Graduate
Penny Wilson, 2011 MTILP Graduate
For more information on the Melbourne Tourism Industry Leadership Program please contact:
Sharna Crosbie | 9869 2407 | sharna@destinationmelbourne.com.au

Melbourne Tourism Industry Leadership Program Participants and Graduates
 
2015 Graduates


Rebecca Andrews, Kellie Barrett, Susan Beniston, Adrian Byrt, Mark Day, Jessica Gilchrist, David Grattan, David Johnston, Leander Joseph, Jennifer Keating, Lisa McKenzie, Alejandra Ortiz-Arenas, Jarred Parsons, Sheri Peters, Joanne Petrillo, Nicole Pretty, James Tranter, Jessica Wickham, Andrew Wilson, Myra Young.

2014 Graduates


Adrian Borg, Fiona Dunn, Isabelle Fennessy, Natasha Flinos, Kate Fraresso, Christine Gibbins, Kirsty Grace, Melanie Grinter, Glenn Harvey, Ashlee Kay, Bowen Kress, Amelia Maher, David McCarthy, Narelle Needham, Marko Sanovic, Kenji Takamori, Simone Thorpe, Chloe Tubbs, Kaye Tuddenham.

 

2013 Graduates


Paul Beames, Melanie Boulton, Christian Dal Zotto, Scott Dewar, Simone Eckersley, Rowena Fitzgerald, Kine Haughland, Tania Jacobs, Katie James, Tracy Jamieson, Matt Kennedy, Michelle King, Meg Law, Jonas Le Souef, Scott Lever, Simon Lock, Nicole Mclean, Jo Pincus, Nigel Preston, Kate Quigley, Ingrid Sanders, Caitlin Sewell, Roberta Styles-Wood, Nicole Tehan, Sophia Xu.

2012 Graduates


Patrick Alewood, Jean-Francois Barallon, Danika Benison, Emanuela Camera, Andrew Cyples, Kate Freer, Joanne Gallpen, Anthony Grace, Anna Heaton, Lisa Hunt, Sheleen Jegasothy, Despina Karatzias, Kerry McClure, Jenny Mitten, Olivia Noonan, Sheridan Nuthall, Karen Oliver, Simon Purssey, Leesa Riley, Kylie Schurmann, Gary Strickland, David Thomas, Darren Vowles, Lincoln Wilson, Robert Wolff.

2011 Graduates


Diane Barrera , James Callander, Stuart Christelow, Emma Cullen, Julie Dal Pra, Edi De Pellegrin, Liz Ellis, Joanna Garrie, Danee Georgiou, Polly Gibson, Tracy Hore, Rachel Hoy, Brett Ince, Fiona Ive, Kate Lillis, Ingrid Marshall, Pauline Murtagh, Abbie Northwood, Louise Osborne, Mark Phelps, Carla Phillips, Anthea Scerri, Fiona Sweetman, Kylee Vowles, Penny Wilson.

2010 Graduates


Nigel Aldons, Daniela Buehrig, David Carruthers, Pablo Diaz, Lana Epshteyn, Amanda Farrelly, Jenine Fleming, Llawela Forrest, Joanne Issaverdis, Emma Johnston, Matt Jones, Reegan Key, Sarah Leaman, Lauren Marquet, Kellie Monger, Lisa Newman, John O'Donnell, Emma O'Halloran, Danielle Phyland, Chris Porter, Tina Seirlis.

2009 Graduates


Alysia Brandenburg, Louise Conley, Nola Cuddy, Sally Curtis, Sean Daugherty, Michelle Dawson, Misti Dullard, David Fitzpatrick, Andrew Gooday, Leah Grinter, Ellena Ly, Maree Martin, Kelly McCarthy, Olivia McClean, Diana Morgan, Penny Olive, Megan Peacock, Richard Ponsford, Nicola Reynolds, Marcia Ryan, Nicole Smith, Renee Street, Tina Truong, Claire Werkmeister, Susan Wright.